Wednesday, June 01, 2005
Games Of Gold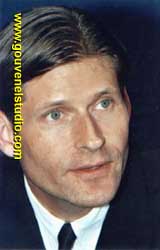 Crispin Glover and David Newhan? Anybody?
And to continue with the Back to the Future/Orioles theme, did anybody see the shot of Brain Roberts they showed on ESPN tonight, with that flux capacitor-looking scar on his chest? I think he travelled back in time to get Brady Anderson's bats from 1996. (Seriously, though, good job by that dude for going through heart surgery as a five-year old.)
Good win tonight, going from being no-hit, to Edgar and company waking up with the bats. Edgar hit about .350 in May. Hopefully Wade will keep this great pitching up. I've now seen five Sox games in a row, and in a different way each time: Friday on Hell No Network, Saturday on Fox, Sunday in person, Monday on ESPN2, Tonight on ESPN. Has to be some kind of record. And yes, Sunday's game at yankee Stadium
was
a little like finding the Mysterious Cities of Gold (only more urine-ey-smelling).
Doo da da doo da doo, cities of gold.
The yankees, by most acounts, were to sweep the Royals. I got the impression the games were not even going to actually be played. But Buddy Bell's Royals came through tonight. Former MVP-"lock" Hideki Matsui hit his first homer since April 8th, raising his average to .261. He also continues to look confused in the outfield, despite the yankee people acting like he's a Gold Glover.
I also caught Michael Kay desribing how they got Tanyon Sturtze "off the scrap heap," like it's some award-winning move. Come on, Kay, we know what you're trying to do and it isn't working. Theo Epstein owns the freakin' scrap heap, everybody knows it. Don't pretend the yanks are savvy for getting Tanyon Sturtze. Terrible job as usual.
One more note from the yankee series, hopefully this is the last one: Tito
and
Torre did dugout interviews, mid-game on Saturday. Remember last year when Backwards Kay, after Tito did one, claimed that that was the difference between the two organizations? That Joe Torre would never take time out from managing to do such a thing? In your big fat face, Kay.
And from Monday's game--I was pissed at Edgar for not running on the grounder that started foul but came back fair. Just run, you know it's fair. Same with Manny on a third strike that got away from the catcher. There was a man on second and two outs. Instead of arguing the call, run to first. Make the catcher make a throw. If he makes a bad throw, it's a run. I feel like these guys are sometimes embarrassed to run on a play when it seems pointless. But for all those millions, you just have to suck it up and run it out.
John Olerud's walk-to-the-plate music tonight included "Smells Like Teen Spirit" and "Paranoid." Nice job, Olerud. I've been waiting a long time to hear Nirvana played at Fenway.
Comments:
First of all, as I'm sitting here at work listening to the iPod, "Smells Like Teen Spirit" starts in my ears as I read "Smells Like Teen Spirit" on the screen. Awesome. I actually heard that last night as Olerud came up and I loved it. I've always loved Olerud, but now even more. I guess that comes with playing a lot of your career in Seattle- and liking cool music.
As for Torre-interview-in-dugout- fo what it's worth, I've seen him do it twice this year- once when leading the Mets on FOX, and once when getting trounced by the Sox. Broseph said he's sure he saw it at least once more this year.
And yes, I was thinking- with a huge smile on my face- about the Kay "Torre'd NEVER do that" comment too. What an ass.
Also- who am I? Ready?
"...and I was talking to Player X before the game, and he told me, 'look- it's a long season. But we got some special fellas in that dugout.'"
I'm Rick Fucking Sutcliffe!
<< Home
About Me
Name: Jere
Location: Rhode Island, United States