Sunday, May 15, 2005
Holy Crap!
Chan and I are sitting here watching the yankee game, it's the ninth inning, the crowd is sparse, and the Hell, No network cuts to a shot of a fan in the stands. The guy has crazy hair, and the announcers make fun of it. I immediately recognize him as the singer of the Melvins, Buzz Osborne. I was screaming, "Chan, that's freakin King Buzzo of the Melvins! Holy shit!" Then I found a picture of him on the internet to prove it to Chan. Here's the pic (which also proves that you can't mistake this dude for anyone else):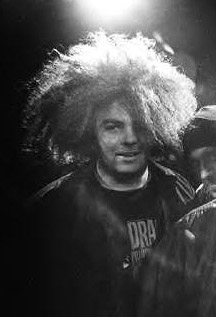 I hope some of you music fan types who also happened to be watching the ninth inning of a 15-5 yankee game caught this.
Comments:
I didn't happen to catch this, but...
WHOA! I love the Melvins. I've seen them twice, and they made my toenails curl they were so heavy.
Buzz is a pretty unmistakeable guy. Good eye, Jere. I'm impressed.
<< Home
About Me
Name: Jere
Location: Rhode Island, United States